Innovative Project Feature
View Project Archives
The TPCB Innovative Project Feature highlights innovative transportation planning projects, plans, and practices. The program provides a unique opportunity to recognize and celebrate the outstanding transportation planning practices performed by planners and decisionmakers in communities across the country. Submitted projects can focus on an array of planning topic areas, including public involvement, multi-modalism, equity, and collaboration, and selected submissions will be highlighted on the TPCB homepage, as well as in detail below.
We applaud the highlighted agencies for their projects as well as all of the outstanding projects nominated for this feature. We recognize all applicants for their efforts in applying to the program and appreciate the work that is being done to advance transportation planning across the county.
Submissions must include:
Project title
Contact information and agency
A 300-word project description
A photograph of the project
Eligible projects are federally funded and have been completed within the last three years.
To apply, please email submissions to TPCB@dot.gov. All submissions will be vetted through the appropriate FHWA Division Office and FTA Regional Office.
Current Project Feature
Crowd-Sourcing the System Map - Massachusetts Bay Transportation Authority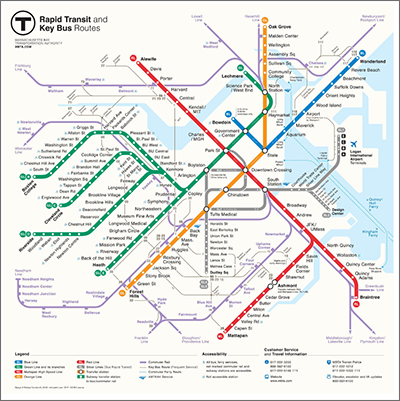 Winning design by Mikheil Kvrivishvili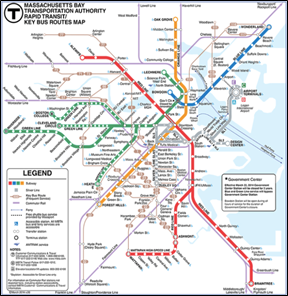 MBTA system map dating from the 1960s.
With the help of 17,045 online voters and more than 30 map designers, the Massachusetts Bay Transportation Authority (MBTA) has a new system map. In the spring of 2013, the MBTA held a contest inviting graphic designers around the world to help it redesign its system map, which is displayed in transit stations, on vehicles, in print media and online. The initial entries were narrowed down to six after review by the MBTA, academics, planners and cartographers. The finalist maps were then released for public voting for two weeks in September 2013, the winner announced shortly thereafter.
The winning map, produced by Mikheil Kvrivishvili of Moscow, features many updates over the old system map, including a new aesthetic, more information on new and existing transit stations, better transfer representation, and cleaner lines for rapid transit and high-use bus routes.
The existing system map has been around with only minor edits since the 1960s, and by crowdsourcing its new system map, the MBTA saved time and money.
For more information about the TPCB program, contact
Michelle Noch
at FHWA (202-366-9206) or
John Sprowls
at FTA (202-366-5362).